GRACIE BARRA FLEMING ISLAND
Welcome To
Our Jiu-Jitsu Academy
We are about family, camaraderie, self-defense, and fitness. People from every walk of life have a place here. Train in a professional environment. We are especially supportive of the non-athlete who seeks to get in shape. Competitive athletes will realize their fullest potential too. By the end of class, you'll be physically tired but mentally exhilarated. Don't get too exhausted. We want to see you back the next day!
Try a free class:
Online Promotion
Enroll online today to receive a discounted uniform
($50 discount for adults and $30 discount for kids)!
ALL ABOUT OUR​
PROGRAMS
An overview of the programs we offer to students at Gracie Barra Fleming Island. Click to learn more.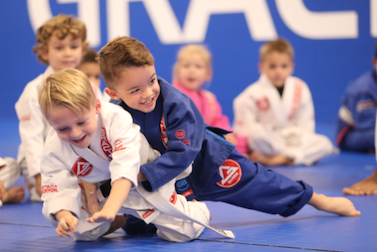 GBK I (4-8 Years Old)​
Our introductory programs for the youngest kids.
GBK II (9-13 Years Old)
Our program for kids 9-13 years old.
GB I (15+ Years )
Our adults program.
Why
Gracie
Barra?
"We seek to train body, mind and spirit through the highest level of Brazilian Jiu-Jitsu instruction. We envision the art as a vehicle for individual development and the strengthening of the family spirit, going beyond the winning-losing or contest philosophy."
– Master Carlos Gracie, Jr.
Fitness
Jiu-Jitsu is often likened to a game of human chess. If you work out at a gym and get bored, you're not alone. Many of our students felt the same. They found Jiu-Jitsu to be the perfect workout because it requires focus proportional to the amount of calories burned and pounds lost. What's more, you learn to defend yourself!
Discipline
The folks at GB make our school what it is, and you too will soon be one of us. You'll be impressed by how committed each and every team member is to your learning. The instructors, staff and other students make our environment friendly yet demanding and challenging, which stimulates all of us to achieve our best.
Self-defense
You don't come to class just to learn how to fight. You also work hard toward mastering the underlying principles that allow you to succeed on the mats. When applied to your life off the mats, these principles can bring more balance to your routine and help you reach your true potential.
CHECK OUT THESE REVIEWS
Gracie Barra Fleming Island is a great place to start or continue your Jiu-Jitsu Journey. The Professor and Coaches are great with teaching and giving instructions. My wife, my kids and I love the friendly environment. Like the motto says We "Organized like a team, Fighting like a family."
My 9 year old niece loves it here! She has fun and especially loves that she gets to practise with other girls her age. It's clean, safe & family friendly. Easy parking too.
I'm kinda partial to this place. It has been a 2nd home for me the last couple of years. I found exactly what I expected to find at a Gracie Barra, and that's a great community and world class professors and instructors. My family all take part in the classes, too. It's a great place for helping kids build confidence and grow.
"
Stephanie Russell
Gracie Barra Fleming Island Member
Amazing place to train. Instructors are patient with the kids and are great with detail. So glad we found this place! Excellent way to teach respect and discipline. Great camaraderie as well. Can't say enough about the staff. We love them!